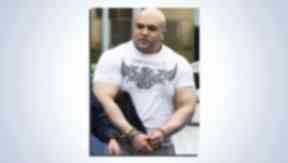 PPA
A racist killer who murdered a Scots schoolboy will serve an extra year and eight months in jail after smashing a metal bar off another prisoner's head and body.
Imran 'Baldy' Shahid, 39, hit his victim nine times with the metal pole which came from gym equipment he had been given in his cell.
Shahid, who was the ringleader of the gang which killed 15-year-old Kriss Donald, claimed he lashed out after hearing about a plot to attack him inside Perth Prison.
He was seen on prison CCTV coming out of his cell with the 10in metal pole before grabbing Patrick Sandeman and raining blows down on him.
Sheriff William Wood noted Shahid was serving a minimum punishment period of 25 years as part of his life sentence and added a year and eight months, to be served consecutively, to that term.
Shahid claimed that long periods spent in segregation had affected his social skills and made him paranoid.
Sheriff Wood said: "Assault with a weapon is always taken seriously and striking someone on the head with a metal bar will inevitably attract a prison sentence."
Shahid, who is now in HMP Grampian, was serving his life sentence in Perth Prison when he attacked and injured Patrick Sandeman on August 5, 2014.
He admitted having an offensive weapon and using it to attack Mr Sandeman.
Fiscal depute Sue Ruta told Perth Sheriff Court: "The incident was captured in full by CCTV. He grabbed his victim's arm and repeatedly hit him full force with overhead blows nine times, then gets him against the wall.
"They saw him repeatedly strike Mr Sandeman full force with overarm strikes to his head and body. Along with other officers, she intervened and pulled them apart. Shahid threw the metal pole into a bin and walked off."
Ms Ruta told the court that Mr Sandeman did not sustain serious injury and declined medical treatment.
Solicitor Ian Sievwright, defending Shahid, said: "He has been in a variety of prisons and the prison authorities are concerned for his safety to such an extent that he's been held in solitary confinement almost continuously for for the first ten years of his life sentence.
"In 2013 he was in HMP Kilmarnock and released into the general prison population. Shortly after that he was the victim of a ferocious attack by 15 other prisoners.
"He was moved to Perth. He continued to be in segregation for a significant period. He had only been in the general prison population for three or four months prior to this incident.
"This long-term isolation does have psychological effects. It affects social skills and also causes significant paranoia and is known to cause aggression.
"Some days prior to this my client advises me he overheard the complainer and other prisoners plotting to assault him.
"On the day, words were exchanged between the accused and the complainer. My client said the complainer ended the conversation by saying he was 'getting done'.
"My client took it to be an imminent threat. He picked up one of the bars and returned to confront the complainer. He accepts he acted inappropriately."
Mr Sievwright said Shahid had been returned to solitary as prison punishment.
Last year, the Supreme Court ruled that Shahid had had his human rights breached by being held in solitary confinement for his own safety.
Shahid and his gang snatched 15-year-old Kriss off a street in Glasgow simply because he was white.
They stabbed him and set fire to him while he was still alive in a murder described by a judge as "savage and barbaric".
Shahid, who has claimed more than £400,000 in legal aid for a string of court appeals, spent four years and eight months in segregation.
Unlike traditional solitary confinement, this allowed up to four hours a day with other prisoners, an hour in the gym and visits and telephone calls, as well as a television and newspapers in his cell.
The dangers posed to him by other prisoners was highlighted three years ago when one almost killed him with a dumbbell weight in a gym at Kilmarnock.
The killer has been described by Angela Donald, mother of his victim, as an "animal" and a coward.
Shahid and his friends attacked Kriss, a total stranger, as revenge after being assaulted by a white man outside a nightclub.
They abducted him in Pollokshields, Glasgow, on March 15, 2004, and bundled him into a car.
The men drove around for hours before dragging their victim from the stolen Mercedes, stabbing him 13 times, dousing him in petrol and setting him on fire.
Set alight while he was still alive, Kriss staggered towards the Clyde but bled to death as he tried to beat out the flames.
--
'Last year, the Supreme Court ruled that Shahid had had his human rights breached by being held in solitary confinement for his own safety.'
So what is the solution to this situation.  The Court does not say.  He is a danger to everyone else and is threatened by many.  But the Court just speaks and, by magic, a problem is solved.