Philadelphia bank: The report in the Philadelphia Inquirer is not explicit, so it's not clear if a niqab is involved, but one suspects so, for how else would "Muslim clothing" and eyeglasses disguise a successfulbank robber:
A woman robbed a Center City bank yesterday and fled with an undisclosed amount of cash, police said. The robber, dressed in Muslim clothing and wearing a pair of silver eyeglasses, walked into the Wachovia Bank branch at Broad and Walnut Streets about 2:10 p.m. and gave a teller a demand note, police said. The robber escaped after receiving the cash, police said.
(January 6, 2007)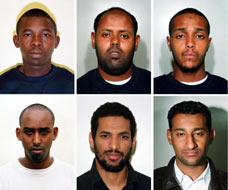 The six accused July 21, 2007 bombers. Yassin Omar (seen here without his burqa) is on the lower left.
Bank robbers in London: "You don't have to be Jewish to love Levy's Rye Bread" and you don't have to be Muslim to misuise the niqab. Anthony Roberts, 22, and Nicholas Bidar, 19, stole Muslim clothes from Regent's Park mosque in June 2006 and put them on to conceal their identities for a bank robbery later that day in Kilburn, north London. They waited in the banking hall before rushing guards as they made cash deliveries and collections, then sped away in a waiting car. The pair of thieves pleaded guilty to three counts of theft (including a previous robbery three weeks earlier) and the Kingston crown court in south-west London sentenced them to four and three years in prison, respectively. (February 10, 2007)
UK Terrorism suspect escapes: Closed-circuit television captured Yassin Omar, 26, of north London, on two occasions wearing a burqa. Omar is one of the six accused July 21, 2005 would-be bombers (he allegedly tried to set off a hydrogen peroxide bomb at Warren Street Underground station). The first timewas on the day of the attempted bombings, when Omar (in the Daily Telegraph description) "dressed from head to toe in a black burka and carrying a brown handbag" is seen walking to Golders Green coach station and getting off a bus hours later at Digbeth, Birmingham. (Click here for the actual CCTV footage.)
The second time, he fled London under a burqa a day after the failed attacks. As the Times (London) account puts it:
The 6ft 2in (188cm) figure of Yassin Omar, dressed from head to toe in a black burka, could be seen with a white handbag over his left arm as he made his way with a woman to a London coach station. Mr Omar boarded the 6.20pm National Express service to the Midlands, Woolwich Crown Court was told. Three hours later the bus arrived in Birmingham and he disembarked. He sat on a bench and waited until a red Nissan Sunny car pulled up, Max Hill, a junior prosecutor, said. He then got in and was driven away.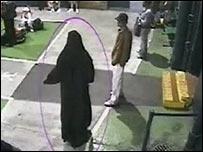 Yassin Omar, in burqa disguise, fleeing from the police.
It bears noting that, for reasons of verisimilitude, Omar shaved his arms and carried a white handbag. (February 21, 2007) May 4, 2007 update: Giving testimony in court, Omar explained that he took one of his mother-in-law's black burqas because she "had lots of them" and put it on out of fear that the police would shoot him.
Afghanistan: Afghan soldiers captured Mullah Mahmood, a Taliban leader and expert bomb-maker, as he tried to flee a massive NATO security operation dressed in a burqa. "Alert [Afghan] soldiers at this checkpoint spotted the oddity and quickly arrested him," explained a NATO press release. (Mar. 7, 2007)
Pakistan: A male gunman wearing a burqa shot dead Masroor Alam, 35, a Sunni Islamist involved in several cases of sectarian killings, near his home in the remote tribal town of Dera Ismail Khan, north-west Pakistan, then fled on a motorbike. (Mar. 9, 2007)
Somalia: The niqab presents a whole different level of threat in Somalia, reports Reuters' Guled Mohamed in "Somali forces ban, burn Muslim women's veils," where the Western-backed government has cracked down on women's coverings in the capital, Mogadishu, to prevent the Islamist Courts insurgents from disguising themselves and then attacking.
"Every policeman and government soldier has orders to confiscate veils from veiled women," senior police officer Ali Nur told Reuters, saying various recent attacks had been carried out by people in disguise. "Some of the remnants of the Islamic Courts have been caught wearing veils. During the war, these remnants, pretending to be women, killed so many government troops." Somalis are generally moderate Muslims and most women traditionally cover their heads but not faces. Officials say some suicide attacks have been carried out by men disguised under full face-veils, known as indhasharer in Somali.

A Reuters witness saw several veiled women running away from police on Wednesday. Near the main Tarbuunka Square, a Somali woman was seen removing her face covering before approaching a government checkpoint where one soldier clutched several of the black veils, which cover the face and leave only the eyes visible. Mogadishu residents said government troops and police had been forcibly removing veils and publicly destroying them. "Yesterday, so many veils were burnt by the police," said taxi driver Abdullahi Mohamed.
(May 9, 2007)
Another Philadelphia bank: Five months later, a Wachovia Bank branch in Philadelphia is again held upby a woman in Muslim garb, though this time in the Juniata Park part of town.
A robber dressed in Muslim female clothing stole $700 from a bank yesterday in North Philadelphia. … police said they were looking for a woman wearing gold-rim glasses in this case. The thief passed a note to a teller at the Wachovia Bank branch on the 1200 block of East Hunting Park Avenue in the Juniata Park section about 11:35 a.m. and fled on foot
(June 5, 2007)
Pakistani horror movie features "Burqa Man": Zibahkhana ("slaughterhouse" in Urdu) has the distinction of being Pakistan's first home-made horror movie in a generation. According to its producer, Omar Ali Khan, reports Aryn Baker of Time, "the scariest local touch is the sadistic cannibalistic killer that wears a burqa," a figure whom Khan dubbed "Burqa Man." (June 12, 2007)
Fatah leader tries to escape Hamas: The Jerusalem Post's Khaled Abu Toameh tells the horrifying story of Jamal Abu Jadian, a top Fatah commander and a sworn enemy of Hamas who tried to avoid the Hamas steamroller in Gaza. He fled his home in the northern Gaza in the evening of June 12 "dressed as a woman to avoid dozens of Hamas militiamen who had attacked it. He and several members of his family and bodyguards were lightly wounded. But when Abu Jadian arrived at a hospital a few hundred meters away from his house, he was discovered by a group of Hamas gunmen, who took turns shooting him in the head with automatic rifles. 'They literally blew his head off with more than 40 bullets,' said a doctor at Kamal Udwan Hospital." (June 12, 2007)
Bosnian bank robbed: Two Men entered a Union bank in the Bosnian capital of Sarajevo wearing niqabs. They trained their guns on the bank's customers, made those customers lie on the floor, and proceeded to empty the tills, making off with about $40,000. "Everything happened in a moment. Two persons in black niqabs came into the bank. I thought they were ladies," bank customer Mehmedalija Komarac was quoted. (July 3, 2007)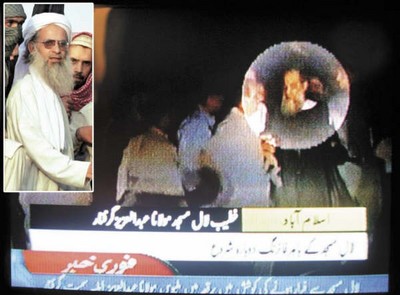 The Pakistani press ran front-page pictures of Maulana Mohammad Abdul Aziz in his usual appearance and as disrobed trying to flee the Lal Masjid complex in a burqa.
Head of the Lal Masjid in Islamabad tries to escape: The two brothers who run the large Lal Masjid complex in Islamabad, capital city of Pakistan, have led an insurrection through which they hope to topple the government of their country. Holed up in the complex, surrounded by some ten thousand soldiers, one of the two brothers,Maulana Mohammad Abdul Aziz Ghazi, 46, tried to escape by joining a group of some twenty women permitted to leave. He donned a full black burqa, even wearing gloves and high heels. Also, he was the only one of the group who stayed quiet.
What happened next is a matter of dispute. One account has a female police officer searching his body, then yelling out, "This is not a woman." Another account has a male security officer pouncing on the mysterious figure and, "as he grabbed her, the burqa came off and his beard fell out. He asked the man who he was and he said 'I am Maulana Abdul Aziz'." A third account quotes a security official saying that Abdul Aziz was picked out because of hisunusual demeanour, As he put it: The rest of the girls looked like girls, but he was taller and had a pot belly.
Government officials had a good laugh at Maulana Abdul Aziz's expense. Deputy information minister Tariq Azeem noted: "After all the things he has said and all the oaths he took from his students that they should embrace martyrdom with him, look at this man." (July 4, 2007)
Kenyan prostitutes hide under niqabs: Now for the niqab hiding an altogether different sort of crime: Prostitution is illegal in Kenya's coastal port of Mombasa but, John Nene reports for the BBC, streetwalkers there have a history of donning the buibui (a niqab that shows more of the face). Wearing black buibuis brings two advantages, allowing them to mingle with other women and to melt into the night when the police turn up. As one streetwalker puts it, "I'm better off wearing the buibui so I look respectable. I can avoid arrest."
Of course, respectable women disapprove. "I feel so embarrassed that sometimes I contemplate removing my buibui and throwing it away. The buibui has lost its respect," says one such woman, Mariam Salma.
This is not the first time prostitutes have donned the buibui, as Nene explains: "It was popular in the 1990s until a religious vigilante organisation illegally rounded up the prostitutes hiding under buibuis and flogged them publicly."
Religious leaders are again upset. Sheikh Muhammad Khalifa, organising secretary of the Council of Imams of Kenya, worries about the police mistaking respectable women for prostitutes, and offers a solution. "For God's sake, if one has decided to join this profession, the uniform of prostitutes is well known. They should stick to their disgraceful attire." (July 11, 2007)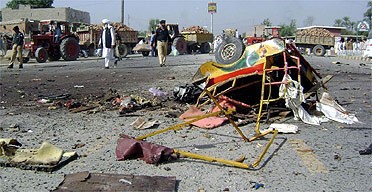 The site of a suicide bombing in Bannu, Pakistan.
"Ban the Burqa - and the Niqab Too" is the title of my article today on the subject of this blog. (August 1, 2007)
Suspected Iraqi insurgent disguised as pregnant woman: The Multi-National Force in Iraq has posted a bulletin today indicating that several men were detained "during an air assault mission along the Euphrates River, Aug. 20. One of the men detained was dressed as a pregnant woman … in an attempt to avoid capture." (August 21, 2007)
Three men carrying explosives in Afghanistan: Itar-Tass relies on IRNA to report that a Russian citizen ("Andrei") and two Afghans were found in Paktia province, Afghanistan carrying about 500 kilograms of explosives in their automobile and were arrested as a suspected associates of terrorists; "all three men were wearing women's clothes." (August 28, 2007) Oct. 30, 2007 update: David Rohde provides a more detailed account of this incident in the New York Times:
Afghan police officers working a highway checkpoint near here noticed something odd recently about a passenger in a red pickup truck. Though covered head to toe in a burqa, the traditional veil worn by Afghan women, she was unusually tall. When the police asked her questions, she refused to answer. When the veil was eventually removed, the police found not a woman at all, but Andre Vladimirovich Bataloff, a 27-year-old man from Siberia with a flowing red beard, pasty skin and piercing blue eyes. Inside the truck was 1,000 pounds of explosives. Afghan and American officials say the Siberian intended to be a suicide bomber, one of several hundred foreign militants who have gravitated to the region to fight alongside the Taliban this year, the largest influx since 2001.
Bomber kills 15 in Pakistan: A burqa-wearing suicide bomber of undetermined sex has killed at least 15 people and injuring 22 at a crowded police checkpoint in Bannu, near the North Waziristan tribal region, about 110 miles south of Peshawar. The bomber was apparently in a rickshaw and set it off while being examined this morning. (October 1, 2007)
Burqa used to rob North Carolina bank: The People's Bank in Hiddenite, N.C. (population: 6,000) was robbed on October 16 by a person in a burgundy burqa at 3:45 p.m. who showed the teller a large semi-automatic handgun, demanded and received money, and fled in a burgundy sport utility vehicle. Police are unsure whether to look for a man or a woman; a close look at the bank video, visible on the WSOC-TV website, reveals it pretty clearly to be a female. The television report also gives some reactions from Hiddenite residents, unused to seeing burqas, much less on robbers. (October 17, 2007)
Rickets: Studies show that burqa-clad women (and their breast-fed children) are lacking in vitamin D, which the skin absorbs from sunlight, and so are at greater risk of rickets. Today's news from Blackburn in East Lancashire, UK, confirms the problem: "56 cases of rickets uncovered." A study commissioned by the East Lancashire Primary Care Trust found, as the newspaper delicately puts it, that almost all the cases found are in the "South Asian community." Further down, we learn that experts think Asian immigrants are more likely to have this problem "because of their darker skin, and Islam's requirements for clothing to cover limbs." (October 29, 2007)
Woman blows self up at Pakistan army checkpoint: A woman in burqa carrying a basket over her head, thought to be an Afghan in her 30s, blew herself in Peshawar as she approached a checkpost, presumably on behalf of the Taliban. She was the only casualty. (December 4, 2007)
Woman with bomb under burqa caught in Afghanistan: Afghan intelligence agents in Jalalabad detained a woman, 55, hiding a bomb under her burqa. She had been followed from Kunar after a tip-off before her arrest. An official in Kunar's intelligence department explained that "She was carrying the suicide waistcoat for the Taleban." (December 24, 2007)