Wal-Mart not worried: Under pressure from CAIR's Nevada chapter, the world's largest retailer apologized to Muslim woman who claimed to have been mocked by a cashier on Feb. 2 who said to the shopper, "Please don't stick me up." In a letter signed by Rolando Rodriquez, vice president and regional general manager, she was told, "I can assure you that the associate in question was disciplined in accordance with our employment policies as a result of the situation." (February 20, 2008)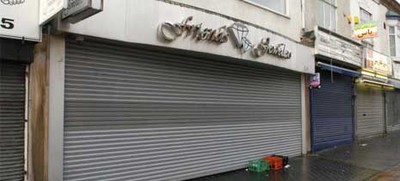 Friends Jewellers in Cape Hill, Smethwick, West Midlands, robbed by a burqa'ed thief and his accomplices.
Armed men rob British jewelry store: A 6-foot, 6-inch Asian mandisguised himself on March 19 as a Muslim woman, put on a burqa, pushed an empty children's carriage, buzzing for entry at Raj Kumar's "Friends Jewellers" in Cape Hill, Smethwick, West Midlands. There was something not quite right about the height and appearance of this person, but the baby carriage persuaded staff to release the lock. On entry, he pulled out a gun and four other Asian men, their faces covered with ski masks, used their hammers to break into the store. They sprayed Kumar, his brother and the store's two security guards with pepper spray, attacked the owners, then broke into display cabinets, took £200,000 worth of 24-carat gold jewelry, and fled in two cars.
Kumar recounted the attack to the press. His mother who first spotted the burqa'ed figure just after 1 p.m..
The 6'6" burqa'ed male thief outside Friends Jewellers, as the security camera caught him.

We have buzzer entry and he was trying to get my mum to let him in. She thought he looked too tall to be a woman but he had this pushchair with him. When she opened the door these men ran in from behind and used hammers to smash through the next door. It took them about five goes to get through the glass. … They got us all in the face [with pepper spray]. One of them threw a claw hammer at me and they hit my brother's arm - he's got a big cut down it. We think this gang have raided other jewellery shops so we tried to prepare for something like this, but when it happened we just froze. We thought they had guns.
Almost as distressing as the robbery were the inane comments on it by two city councilors, both of whom seem to think this robbery was the first of its type. Keith Davies said: "I am a member of the police authority and I will be asking if this kind if think has happened before. … It's the first time I have heard of anything like this. It calls up a lot of questions about how we deal with crime. I would hate to think there could be challenges on women walking round the streets in burkhas. It is really unusual." Mohammed Rouf added: "I am really shocked. It seems they are trying to come up with new ideas to rob people. This is bad for the community and I am shocked that they would go this far just to steal."
For pictures from the security camera, see the sequence at the Daily Mail's coverage. I reproduce one here. (March 22, 2008
Armed man threatens British security guard: A man "dressed in black and wearing a face covering believed to be a burka" threatened a Securicor security driver outside a supermarket in Birmingham on March 14 with what is thought to be a firearm wrapped in a black plastic bag. The driver got into his van and shut the sliding door, trapping the weapon in the door before the attacker could spring it, and ran off to the passenger seat of a nearby parked car. The police issued a statement: "Due to the similar circumstances, officers are exploring possible links with the robbery that took place at Friends Jewellers last week." (March 22, 2008)
Al-Qaeda suspect in four murders caught in habaya in Mauritania: Marouf Ould Haiba is one of four suspected Al-Qaeda terrorists accused of ambushing and killing four French family members as they picnicked on Dec. 24, 2007, alongside a road near the town of Aleg, 155 miles south of Nouakchott. He was caught today in a taxi in the capital Nouakchott while disguised as a woman. Government spokesman Hindou Mint Hainina said that "He was disguised as a woman and was carrying a weapon under his dress. He had been trailed by the police for several days and is currently being questioned in Nouakchott's central police station." Police spokesman Mohamed Abdallahi Ould Adda called him a "dangerous member of Al-Qaeda." According to the police, when caught, Haiba was wearing habaya, a black robed garment that covers the head and entire body with just a slit for the eyes. (April 10, 2008)
Philadelphia real estate leasing office: Two men, dressed like Muslim women, pulled off an armed robbery today of a real estate leasing office in southwest Philadelphia, carjacked a van, and escaped in the van, only to abandon it and flee on foot. But an employee of the real estate company both pursued them and alerted the police. When the police caught up with the robbers, one of them, a 20-year-old, pointed a gun at Police Lt. Frank Vanore who shot him in the arm. The robber is listed in stable condition. (May 1, 2008)
Philadelphia bank, police officer killed: What is it about Philadelphia, burqas, and robberies? Here is the fourth incidence I am aware of, more than any other city:
Two men robbed the Bank of American branch inside the ShopRite in the Port Richmond section in the late morning today, then fled. When Police Sergeant Steven Liczbinski, 40, confronted them about 15 minutes later, they shot him three times with an AK-47 and he died soon after. Other police officers chased the two men and killed one of them, Howard Cain. The police also searched a wooded area for another man and a woman connected to the bank robbery. According to an Associated Press report, "The man was described as black, stocky and wearing a white hospital mask. He had shoulder-length dreadlocks, but Little said officers cautioned that that could be wig. The woman, whose race was not known, was dressed in a head-to-toe light brown robe." Another report described the woman wearing "Muslim-type garb."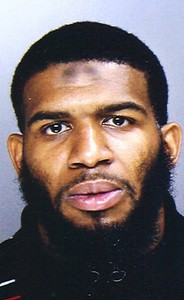 Howard Cain of Philadelphia, who disguised himself in a niqab to rob a bank.
Comment: There is no reason to assume that the person in burqa is actually a woman. (May 3, 2008) May 5, 2008 update: Indeed, that person was a man. Here are more details of the crime: Two of the robbers, Howard Cain and Eric DeShawn Floyd,
donned Muslim women's clothes - a hijab covering their heads; long dresses, called an abaya; and face veils, called nik-ab - to prevent detection," while Lavon Warner wore a dreadlock wig and dust mask." Then, the trio marched into the bank, and Sgt. Liczbinski responded to the bank robbery alarm at 11:26 a.m. The trio hopped in a blue Jeep Liberty. Hearing flash information about the Jeep, Liczbinski chased the vehicle, which stopped twice before hitting a pole. Cain jumped out and fired the high-powered SKS assault rifle five times at the officer, hitting his left trunk and leaving him in a pool of blood, at Schiller and Almond streets.
May 6, 2008 update: Cain is a Muslim and perhaps Floyd too.
Police patrol attacked in western Afghanistan: A suicide bomber in burqa attacked a police patrol in the Dilaram district of Farah province. Striking in a crowded market, he killed at least 12 people (7 police, 5 civilians) and wounded 27 others (11 police and 16 civilians). The Taliban claimed responsibility for the attack and named the perpetrator as Mullah Khalid. (May 15, 2008)
Police patrol attacked in southern Afghanistan: "Burqa-shrouded suicide bomber shot by Afghan police in Helmand," reads the The Times (London) report:
British soldiers beside the body of a dead Afghan suicide bomber shot in Lashkar Gar in Southern Helmand while wearing a burqa; note the suicide bomb belt near the corpse.

The suicide bomb belt lies beside the body of the man shot in Lashkar Gar in Southern Helmand today. Among the trail of clothes around him is the women's burqa with which he had disguised himself as he set out, explosives strapped to his chest, towards the police compound that was his target. "He was shot in the forehead after he ignored warning shots and was killed on the spot," said Hussain Andiwal, provincial police chief. "When we took off his burqa we found he was a man with a suicide vest tied around his body." "It was an 18 volt battery concealed under his clothes," said a spokesman for ISAF, the International Security Assistance Force.

When Private Daniel Gamble, one of the regiment's small number of Pashtu speakers, approached him to ask him what he was doing, the man reached under his cloak and detonated a concealed explosive vest, killing Private Gamble instantly and fatally wounding two other members of the patrol. On this occasion, however, the Afghan officers guarding the compound shot the man after he refused to freeze and instead started running towards the building, according to Mr Andiwal. The explosives were never successfully detonated and there were no other casualties.
Criminal accessory in the UK: The niqab now helps aggressive teenagers in London hide from the law, reports the Daily Mail:
Two youths were seen wearing niqab-style face masks and wielding a sword after a 14-year-old boy was stabbed, locals have claimed. One was heard to say 'I'm going to kill him' as the pair walked calmly down a residential street chatting at about midday yesterday. The schoolboy was knifed in the chest just yards away at 5pm on Tuesday. He collapsed in a pool of blood in front of drinkers outside a pub as they enjoyed an after work pint. A terrified local, who saw the sword-wielding teens but did not want to be named, said: "I saw two boys wearing Muslim women's headgear but normal clothes otherwise and you could see only their eyes. One of them was carrying a sword with a huge blade over a foot long which looked like something you would use to gut a lamb. I saw them and my heart was gone. I've never been so terrified. Although I could only see their eyes I could see their hands as well and they were two black boys, tall, probably about six feet and I would guess they were 16 or 17 years old."
(June 18, 2008) June 19, 2008 update: The text at the Daily Mail has been changed; for the full original version, see a comment on this website, "Boy, 14, fights for life after being stabbed in football game row b...."
Dutch pickpockets don head covering robes of Muslim women: Dutch police report a 'sharp increase' of Bulgarian or Romanian pickpockets who are dressing up as pious Muslimas and going after marks in nearly all the marketplaces of Rotterdam. (June 27, 2008)
Attack on a governor in Iraq: Iraqi insurgents deployed a man dressed as a woman – presumably in burqa or niqab – in a failed assassination attempt on a provincial governor, Raad Rashid al-Tamimi of Diyala province. Tamimi escaped unharmed but at least one other person was killed and several were wounded. (Aug. 13, 2008)
Shi'i pilgrims in Iraq: Twin suicide bombings by burqa'ed women killed 22 and wounded at least 73 Shi'i pilgrims in Iskandariyah, Iraq, as the pilgrims made their way to Karbala, the police chief of Babil province, General Fade Reza, noted that the government does not have enough female police to search the pilgrims. "During the day it is possible to identify them but at night it is more difficult. Because of the burqa, sometimes you cannot even tell if they are men or women." (Aug. 14, 2008)
Attack car in Bahrain: The Bahraini Ministry of Interior reports that men wearing abayas attacked three Bahraini nationals with Molotov cocktails as they were traveling traveling in a private car on a highway, "smashing the windows and setting the front seat alight." The statement the incident as an "act of terrorism." (Oct. 2, 2008)
U.S. Troops kill Taliban commander disguised in a burqa: During large-scale gun battles and airstrikes by NATO and Afghan forces, killing 53 terrorists, a U.S. team surrounded a house yesterday in Ghazni Province and ordered everyone out. Six women and 12 children left the building, but one of the women turned out to be Haji Yakub, a Taliban commander wanted for directing roadside bomb and suicide attacks. He attacked the soldiers and was killed. (Nov. 29, 2008)
Burqa'ed woman has role in Mumbai terrorist assault: The attack in Mumbai that left nearly 200 dead and traumatized the city included a hidden woman, according to Damien McElroy of the Daily Telegraph:
Investigators said that an urgent alert had been issued to officers to find the woman referred to by Azam Amir Qasab [the only surviving terrorist] as "sister." Eyewitnesses had seen Qasab buying dried fruit with the burqa-wearing woman near Mumbai's main train just minutes before the attack was launched. Residents near the Cama hospital, which was attacked by Qasab and a partner Abu Dera Ismail Khan, had said a woman helped Qasab after the attack on the station. A shopkeeper also insisted at least one woman had accompanied the pair.

"The man started firing towards the hospital immediately after entering," said one eyewitness. "Moments before, the woman, in a salwar kameez underneath her burqa, had even tried to enter the hospital by climbing a water pipe. As the man continued firing, the woman, who wasn't armed, knocked on one of the houses. They then asked the family for water." While Qasab and his fellow gunman were cornered in a police ambush, the woman got away.
"Ireland too grey for the burqa": Miriam Casey, of the Osteoporosis Unit in St James's hospital in Dublin warns that Muslim women wearing the burqa in cold countries like Ireland are at increased risk of pelvic fractures during childbirth because of vitamin D deficiency due to a lack of sunlight, writes Colin Gleeson in the Times (London). Also, babies born to such women are more prone right after birth to "serious complications such as seizures, growth retardation, muscle weakness and fractures." Subsequently, as toddlers, "carrying the weight of the torso can force the development of a bow-legged appearance and a waddling gait. Later, there can be rickets, which is caused by vitamin D deficiency, with swollen wrists and bones that fail to fuse in adolescence."
In contrast, the sun in hot countries, she maintains, gets through the cloth enough for them to absorb adequate amounts of vitamin D. "Ireland's temperate climate doesn't have the intense sunlight that keeps burqa-clad women from becoming vitamin D-deficient in their own countries." Further, darker skins produce vitamin D far less efficiently than fair skins, sometimes as little as 1 percent as much. (December 28, 2008)